4 MAJOR TYPES OF TONNEAU COVERS FOR PICKUP TRUCK BED
As the owners of pickup trucks, they will find ways to make their pickup trucks more beautiful, more fuel efficient, more safe and durable. Therefore, choosing a suitable tonneau cover to cover the truck bed becomes the best solution.
However, there are several types of tonneau covers that are popular on the market, and if you can't find the right one, you're wasting your money. If you're a pickup truck bed cover retailer or pickup truck modification shop owner, you need to recommend suitable tonneau covers for your customers to help them get the best experience possible.
What follows will help you understand the different types of tonneau covers and the benefits of each type. We must say that this information is enough to allow you to get an idea of truck bed cover and choose the right tonneau cover types.
If you observe carefully, there are 4 types of tonneau cover that most people choose. Well, let's reveal their pros and cons.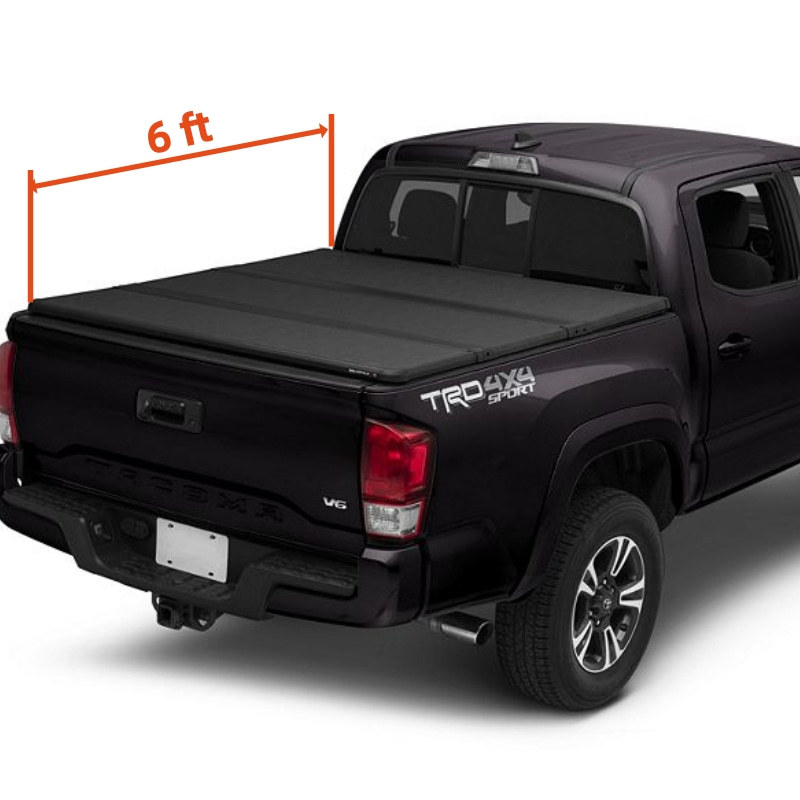 1.
Folding Tonneau Covers
The folding system tonneau cover is one of the most popular truck bed cover types for pickup truck owners. Owing to the tight-lock security system and a convenience user accessibility make this type preferable.
Folding tonneau covers are quickly removable and attachable in need. Again, folding tonneau covers bring extra security when the vehicle is added with a locking tailgate.
The folding tonneau cover also provides you with soft and hard options. If you want to be economical, you can choose a soft folding tonneau cover. Hard folding tonneau cover adds some cost, but gives a more elegant look and adds an extra level of protection.
In terms of folding design, there are double, triple and multiple folds. A double fold cover can be folded into two parts, in the triple fold type, you can fold the cover into three parts. In the multi-fold design, the tri-fold tonneau cover is the choice of more pickup truck owners.
Features and advantages of Folding Tonneau Covers
l Heavy-duty framing cover

l Versatile folding parts accessible from any sides
l Comprehensive with the truck bed accessories
l Best to haul awkwardly sized cargo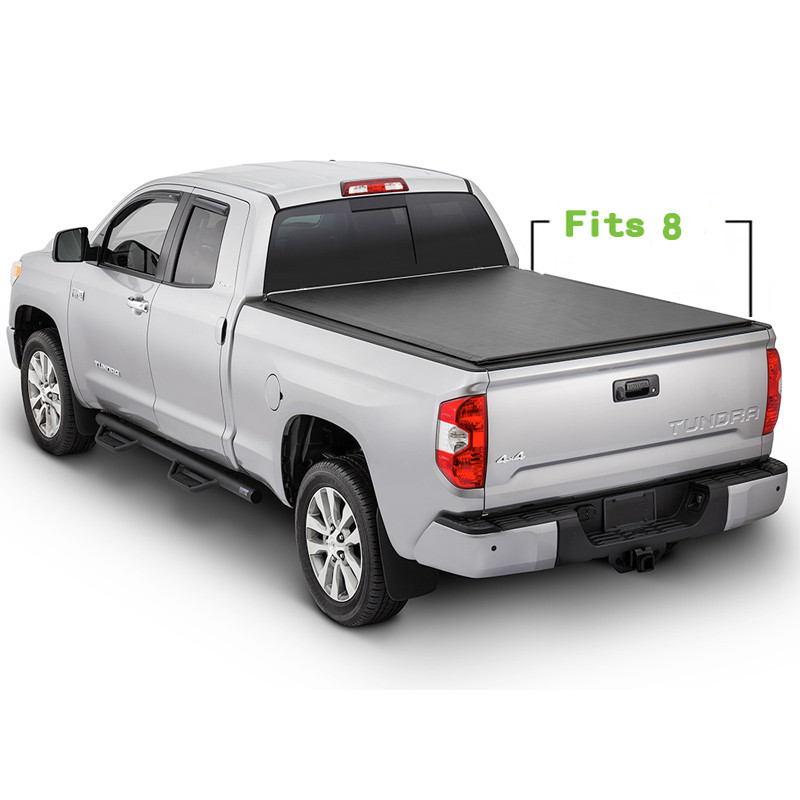 2.
Roll-up Tonneau Covers
If you're looking for an economical truck bed cover for your pickup truck, the roll-up tonneau cover is the best option. This type of truck bed cover is easy to install and affordable.
You can roll these covers in the same way you roll a mat. So, the versatile use of these roll-up covers ideal to avoid thieves and weather effects.
However, roll-up covers some with two choices-hard or soft roll-up. The hard roll-up covers provide more durability and security choices than that of the soft one. And the hard roll-up types can be in a solid material that may not be flexible to roll entirely.
On the other hand, the soft roll-up tonneau covers can roll up as much as possible. And most of the soft ones are made of vinyl, which has the advantage of price.
So, the soft roll-up folding tonneau covers are more popular.
Features and advantages of Roll-up Tonneau Covers
l Low-profile design

l Easy to install and roll
l Offer broad access or less according to need
l Entry-level price cover
3.
Retractable Tonneau Covers
Retractable tonneau covers feature some similarities with the roll-up types but with some uniqueness in opening style. Well, retractable tonneau covers are simple and clean in design but provide the utmost security panel with the finest accommodation.
This type of truck bed cover can be retracted in a canister that is on the front part of the truck bed. The retractable cover's outer exterior can be of different materials such as vinyl, Aluminium, polycarbonate- varying price and durability.
Another notable feature for truck owners love is it does not need to remove the cover to access the truck bed. It has the push button option to open or close the cover. Some brands also provide remote-controlled key fobs that are high in security level but a bit pricy, of course.
And do you know the best part of a retractable cover? It allows you to have any shape of cargo where the weight is finely distributed with utmost protection to the rest. Also, the retractable mechanism provides benefits when you tow your truck.
Features and advantages of RetractableTonneau Covers
l Low-profile flat design

l Superior protection to the truck bed
l Versatile user opportunities
l Multiple opening system for flexible haul
For those who want a proper finishing look to the exterior of the cover, hinged covers are the ideal choice. Hinged tonneau covers come with a higher price tag but provide the entire security option with locking the tailgate. You can have protection for cargo from any actions of the thieves to even rain and dust.
You can hinge the cover and lock it in an open position to easy access to the whole truck bed. It is not fold-able or roll-able. That can be challenging for baggy cargo accommodation.
But this can offer your truck a smooth and seamless exterior finish with a total security option.
You will be thankful for the upgraded shock technology of these hinged covers. Again, this covers some with both ABS plastic material or fiberglass to make the cover durable. Oh! You can also have this flat cover lid matched to your truck color. This is quite famous and preferable by many.
The tight security features with one or two key lock options make it ideal for heavily-secured hauling. The hinged cover offers total tightening security from the truck trail to the tailgate preventing the tailgate from opening.
Features and advantages of Hinged Tonneau Covers
l Tight security lock features

l Mesmerizing paint matching lid design
l Can not accommodate unshaped cargos
l One-sided wide-open accessibility to the truck bed
These are the major 4 types of truck tonneau covers, they are common, the price is determined by brand and material.
Tonneau Covers Top is a professional manufacturer of truck tonneau covers from China, mainly producing folding and roll-up tonneau covers. We can provide you with OEM service, you only need to tell us the specific pickup truck model and trunk size, we can customize the production of the trunk cover you need, and wholesale to you at the factory price.
Email:may@tonneaucovers.top

Ms. May Tang